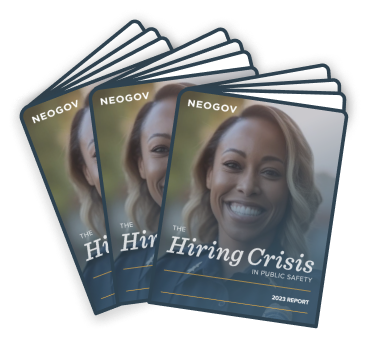 Optimize Your Hiring With Data
Download the report now for insider data on what public safety job seekers actually want; PLUS best practices for attracting more qualified candidates.
Public safety is facing an unprecedented recruitment challenge – dwindling job applicants, employees jumping ship to the private sector, and a growing wave of retirements. And hiring data supports this troubling trend. Although public safety job openings have increased by 49% since 2020, the number of applications has decreased by 9%.
Ready to break the cycle of turnover and reverse the trend? With this report, you'll get:
Exclusive insights into the public safety job market
Public safety jobs that are hardest to fill
Best practices for attracting top talent in this competitive market
Want to know more about leveraging technology in your public safety agency?
Learn directly from the experts at Ignite – NEOGOV's User Conference. Gain insight into the latest public sector trends while connecting with other public safety leaders at the MGM Grand in Las Vegas. Learn about this year's Ignite lineup of speakers, sessions, roundtable discussions, social events – and more!